News
january 2015:
WonderWomen – group show in Minneapolis  – January 20 – February 14

WonderWomen is a group exhibition at the Katherine E. Nash Gallery of work by women artists inspired or influenced by comics, animation or popular culture, and related screenings of work by women filmmakers presented by the Film Society of Minneapolis St. Paul.
My Sneak Like A Panther installation and my animation Going Round The Houses can be seen there – amongst artwork by Diyan Achjadi, Alison Bechdel, Dara Birnbaum, Carolina Borja, Jennifer Camper, Deedee Cheriel, Sally Cruikshank, Jennifer Cruté, Disorientalism (Katherine Behar, Marianne M. Kim), Mary Doodles, Cherie Gaulke, Michela Griffo, Nicole Houff, Anna Hrachovec, Mari Inukai, Maya Kern, Sivan Kidron, Pelin Kirca, Barbara Kruger, Hyein Lee, Lynn Hershman Leeson, Paola Luciani, Lupi McGinty, Stephanie McMillan, Leah Moreno, Jackie Ormes, Rebecca Parham, Barbara Porwit, Samantha Rei, Trina Robbins, Betye Saar, Jenny Schmid, Barbara Schulz, Rena Simon-Igra, Ema Smoluchowski, Jen Sorensen, Meni Tzima, Amandine Urruty, The Waitresses (Jerri Allyn, Anne Gauldin)
Katherine E. Nash Gallery
Regis Center for Art, University of Minnesota
405 21st Avenue South, Minneapolis, 612/624-7530
https://art.umn.edu/nash
Film Society of Minneapolis St. Paul
St. Anthony Main Theatre
115 SE Main Street, Minneapolis, 612/331-4724
http://mspfilm.org
november 2014:
new publications

Searching for christmas presents? I can recommend both of these recently published hardcover books, that  feature some of my work:
1. Pictoplasma – Character Portraits.  "The Ultimate Source Book of Postdigital Portraiture for Character Designers, Connoisseurs and the Creatively Curious!"
408 pages, fully coloured, 22 x 28,8 cm / 8.7 x 11.3 in, hardcover & dust jacket, 49,50 €, Pictoplasma Publishing, Berlin, ISBN 978-3-942245-06-7
2. TextileArt around the world "In this latest edition we travel through the surprising and colourful world of textile art. Over 800 photographs display the most beautiful work of 160 artists from across the globe. This is a unique collection of a great variety of worldwide textile art joined together in one book."
168 pages, fully colored, over 800 images, 28 x 210 cm, hadcover, trilingual edition (dutch, english, german), 29,50 € (37,00 inc ww shipping), textile-link NL, ISBN 978-90-818476-7-4

april 2014:
Pictoplasma – celebrating 10 years of contemporary character design and -art
"During the past decade the Berlin based Pictoplasma project has tirelessly hosted, encouraged and pushed forward a unique, playful and interdisciplinary investigation of the visual avant-garde and graphic arts in the digital age. To celebrate the 10th anniversary edition, the Festival awaits with the Pictoplasma Portrait Gallery at Kaufhaus Jandorf, an exhibition showcasing new works by the 100 artists who have most influenced the festival over the past decade. The Character Walk invites you to a tour of numerous exhibitions by emerging and established artists, most of them premiering in Germany. The freshly graduated Alumni of the first Pictoplasma Academy, held in October 2013, will present their works at Urban Spree. On three nights, the Babylon brings surprising animation to the big screen, and on Saturday night all culminates in the inevitable Big Birthday Party at Urban Spree."
Unfortunately I planned my vacation wrongly and will miss all this! Almost. I contributed one new piece to the big group show at Kaufhaus Jandorf whicht can be seen untill Mai 11.
Everything else: April 30 – May 4 at Kaufhaus Jandorf, Babylon, Urban Spree and 15 Art Spaces in Berlin. Check all the action on Pictoplasma's website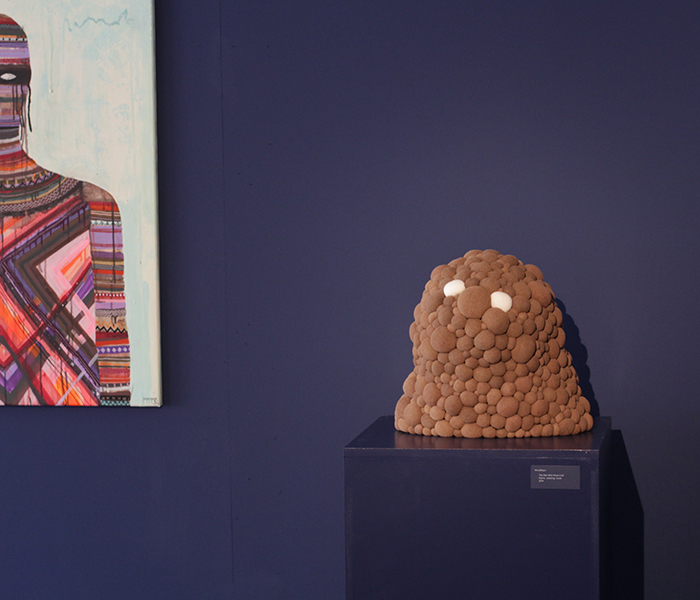 ps: The Museum of Contemporary Arts Monterrey, MARCO / Mexico will show the Character Portrait Gallery from September 18th, 2014 to January 11th, 2015
january 2014:
Nichtsnutz
december 2013:
Donna Quichote meets Judith d'Arc

november 2013:
Ein leichtes Schwert

april 2013:
spontane Wanderlust

march 2013:
varoom!
imaginary travels
november 2011:
Pictoplasma group exhibition Paris


april 2011:
Lovers Rock
march 2011:
safe the date!
Before I disappear into another maternity leave I really wanted to do a new show.
This will finally happen end of May. On Saturday 28 will be the opening at heliumcowboy artspace in Hamburg / Germany.
Save the date! Details will follow.


december 2010:
Étapes
october 2010:
Preview Berlin art fair
october 2010:
Merci, Marzi

september 2010:
Street Knowledge

september 2010:
group show in Munich

september 2010:
group show in Hamburg
september 2010:
art class for children
april 2010:
Pictoplasma
march 2010:
einsweiter
february 2010:
maternity leave
august 2009:
If life gives you lemonade – add vodka!
may 2009:
Volta5
february 2009:
Needleworkout And Pumping Iron
Embedded in the 3rd Pictoplasma Conference's Character Walk 2009 I show some of my latest works in Berlin.
Come to the opening  on Tuesday  17th of March between 7 and 10 p.m!
The exhibition is kindly supported by heliumcowboy artspace and presque fini / fashion designer Paula Immich who will be my host:
presque fini showroom
Brunnenstr. 53
13355 Berlin
Open March 17 – 22, 12 a.m. – 8 p.m.

Do the Character Walk (30 galleries and project rooms across Berlin), but also see the festival's main exhibition Pictopia at
Haus der Kulturen der Welt
John-Foster-Dulles-Allee 10
10557 Berlin
Open March 19th – May 3rd, 10 a.m. – 9- p.m.

january 2009:
group show in Barcelona
In Summer 2007 a group of artists represented by Iguapop gallery in Barcelona did a show at heliumcaballero's in Hamburg. Now we strike back and descend on Iguapop. The exhibition is titled Das Herz von St. Pauli and runs from Saturday, January 17th until February 14th. We, that's Stephen Smith (Neasden Control Centre), Christophe Lambert, 56K, Alex Diamond, Arturo Sandoval III (Friends With You) and me. Felix (Home Of The Lame solo) will bring his guitar to play an acoustic set on the opening on Saturday and we will bring some fancy appetizers from Hamburg.
No te quedas con las ganas – venga!

Broken Places (detail)

november 2008:
next: SCOPE Art Fair Miami (Dec 3 – 7)

june 2008:
Going Round The Houses
may 2008:
It's done!
may 2008:Stick And Move – new solo show
february 2008:
Hello Africa II
february 2008:
Sing What You Know
january 2008:
Hello Africa!
december 2007:
Love, peace and happiness!
december 2007:
SCOPE – artfair in Miami
november 2007:
Hamburger Comicfestival / Toy Store im Hinterconti
may 2007:
furnish – book release
march 2007:
going back to Paris
Next week I will be in Paris to join a group exhibition of wool artists. It will take place in the Boutique Printemps Design inside the Centre Pompidou. Opening is on Wednesday, 21st of March. I joined another wool art event in Paris two years ago and it was mad! So – if you are in town… The show can be seen for 3 weeks.
Place Georges Pompidou, 75004 Paris, France, phone 01 44 78 15 78
Open every day from 11 am to 10 pm, exept on mondays

february 2007:
SCOPE art fair in New York, Feb 22 – 26
On Saturday we opened the friends with you bootleg show at heliumcowboys'.What Boris Hoppek, Moki, Neasden Control Centre, Kingdrip, Alex Diamond, Kukusina Portnova, Via Grafic, Eliza, Haina an I di do safe asses of guys who come to late to their own exhibition can be seen from 23.9. – 22.10. at the gallery heliumcowboy artspace, Sternstrasse 4, Hamburg – St. Pauli. Meet the originals in 22nd of October!


august 2006:
This weekend: Clepto anniversary contest!